We are happy to release the first public beta version of the tool.
Even if we know that many things are missing and bugs are obviously existing in this beta, we would like to let you know about the tool and the way it works.
Goal
Use LabVIEW content to generate valuable documentation that wil help maintain your projects and onboard new resources in the development team.
When we say "LabVIEW content" we not only speak about vi description, we also speak about how the different part of the code are linked together.
As a DQMH user, the tool has been primarily developed to get most information from this framework. We hope to support OPP and other frameworks in the future.
How to
You can generate the documentation of your LabVIEW project running the tool from Tools»Wovalab»AntiDoc»Generate Project Documentation… menu item.
After minimal configuration (1-Select the lvproj you want to document ; 2-Fill in document title, author name and e-mail address), you just have to hit the Generate documentation button (3).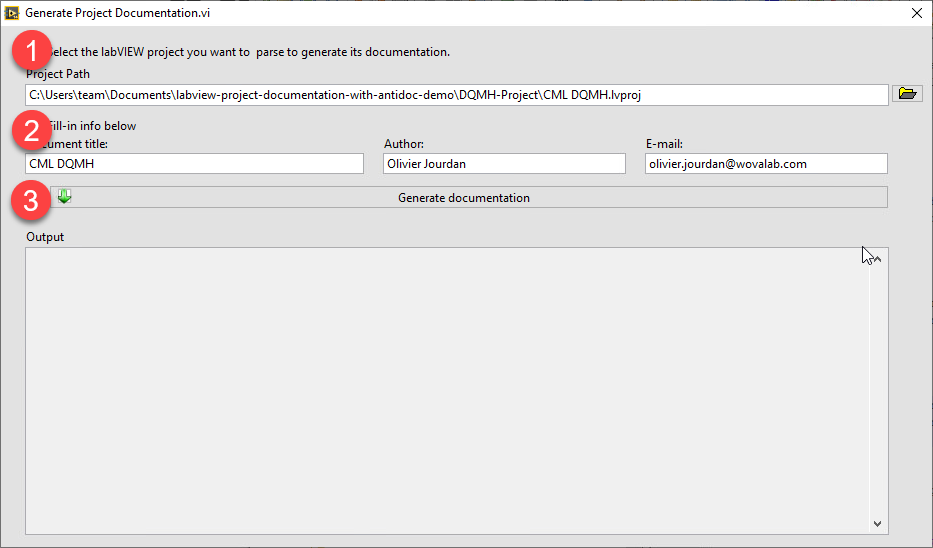 An output folder is generated next to your *.lvproj file
This folder contains Project-Documentation.adoc file and Images folder.
Project-Documentation.adoc is a plain text file using Asciidoctor syntax. Even if you can read this document as it, it remains not really nice to show to other people.
There are many ways to render this file. Among them, you can :
open Project-Documentation.adoc file in Chrome with Asciidoctor.js Live Preview extension (don't forget to allow access to file URLs in the extension page to render the file).

If you are using Gitlab to store you LabVIEW projects you can directly view it in your browser and it will be directly rendered without any extra extension. See an example here

You also render the same adoc file to obtain a beautiful PDF using Asciidoctor toolchain
Download the PDF file: Project-Documentation.pdf
Download
Installation
Installation can be made with the free version of VI Package Manager.
LabVIEW supported version
2014 (32 and 64 bit) and above
---
See also